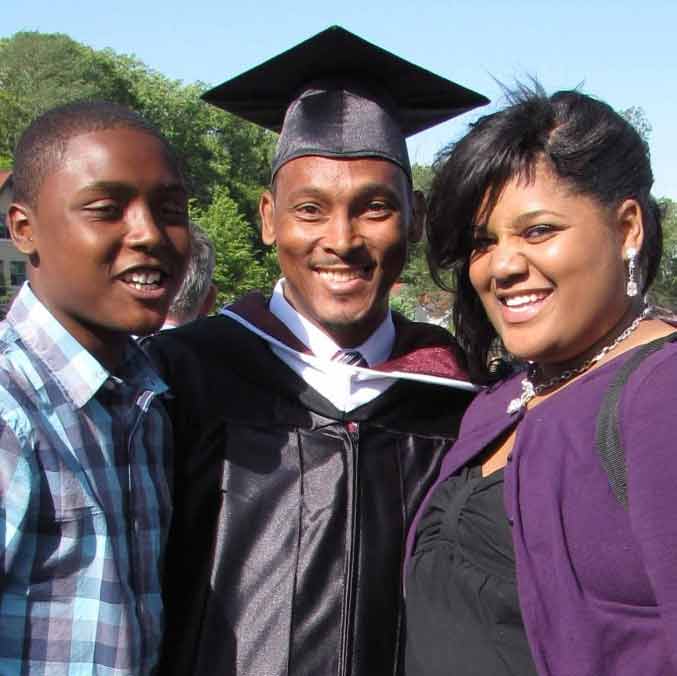 Through vibrant grassroots partnerships that deliver leadership development and post-secondary education, I-LEAD engages and works alongside low-income residents aspiring to achieve economic and social equity, to help them liberate their full potential. 
Our client community of students includes all who strive to achieve economic and social equity. Our team shares a deep sense of solidarity with our clients, because we have shared the challenges of overcoming economic deprivation and social isolation arising from systems of oppression and structural racism. Our clients experience these challenges as inequitable access to support for educational and economic achievement, to social and business opportunities, and to social and financial capital. Our clients live within urban neighborhoods of color in Southeast/Central Pennsylvania, extending from Philadelphia in the East to Lancaster and Coatesville in the West.
From 1995 through 2005, I-LEAD served as the lead training partner for Urban Genesis, Inc., focusing primarily on the development of community leaders in Philadelphia. From 2001 through 2005, I-LEAD served as the lead training partner for the Pennsylvania Weed and Seed program. In this capacity, through a multi-year grant exceeding $2 million, I-LEAD delivered leadership and organizational development training, as well as related technical assistance services, to faith-based and community organizations in sixteen Pennsylvania cities. The program included not only thousands of hours of leadership and organizational development training delivered on-site to cohorts of grassroots faith-based and community leaders, but also ongoing technical assistance, including regional conferences and the provision of mini-grants to support the leadership development and organizational capacity-building objectives of the program.
In 2001, with support from the Comcast Foundation, I-LEAD developed a comprehensive technology curriculum and incorporated it into all of its programming.  With grants exceeding $1 million received from the Pennsylvania Department of Health through the University of Pittsburgh's Center for Minority Health, I-LEAD established its community health programming. Since 2003, I-LEAD has provided health advocacy leadership programs, community health worker training, bio-preparedness, CNA and VESL training and education through grassroots and community organizations which serve predominantly minority neighborhoods throughout Central and Southeastern Pennsylvania.
At the behest of adult trainees seeking college credit for their coursework, I-LEAD translated its leadership training into an accredited two year college program 2005 in collaboration with Harcum College. ACE was piloted at the Chester Education Foundation in Chester, PA and now operates cohorts in Philadelphia, Upper Darby, Coatesville, Lancaster, and Reading, PA with large social service agencies: Congreso de Latinos Unidos, Chester Education Foundation, the Spanish American Civic Association, and with faith and community based organizations such as Deliverance Evangelistic Church and Life Transforming Ministries.
As a result of these intensive programs, I-LEAD has been able to build close contacts and relationships with numerous grassroots, faith-based and community organizations across Pennsylvania, spanning small cities, larger urban areas, and the rural communities that connect them. In the West, I-LEAD's geographic focus has included Erie and Pittsburgh, as well as the smaller communities of Sharon and Farrell, McKeesport, New Kensington and Arnold, Aliquippa, and Wilkinsburg. It has included the Central Pennsylvania and "222 Corridor" communities in Harrisburg, York, Lancaster, Reading, Allentown, Bethlehem, and Easton. It has also included the Southeastern Pennsylvania communities of Coatesville, Norristown, Chester and Philadelphia. While other organizations may be able to match this geographic scope, few can claim with credibility to have penetrated and built substantial relationships at the grassroots level. The several thousand strong alumni of I-LEAD—including political leaders and numerous leaders of small organizations and faith congregations across Pennsylvania—form a potent network for serving the public good.
Since 2005 at I-LEAD's founding site in Chester, PA
of graduates report higher income
earned bachelor's degrees

Significant Partners and Clients
Berks County

Bucks County Drug and Alcohol Coalition

Center for Minority Health (University of Pittsburgh)

Chester Education Foundation

Chester Housing Authority

Community Leadership Institute

Community and Police Interracial Task Force

City of Philadelphia

City of Reading

County of Lehigh

County of York

Friends of Recovery New Jersey

Henry Schein, Inc.

Kellogg Fellows

National Leadership Alliance

Pennsylvania Commission on Crime and Delinquency

Pennsylvania Department of Aging

Pennsylvania Department of Education

Pennsylvania Department of Health

Pennsylvania Department of Labor and Industry

Philadelphia Development Partnership

Pottstown Area Health and Wellness Foundation

Reading School District

South Central Workforce Investment Board

Temple University

United States Department of Agriculture

United States Department of Justice

Widener University
Representative Funders
The Philadelphia Foundation

Patricia Kind Foundation

Ethel Sergeant Smith Foundation

The Community Foundation of Delaware County

Centers for Disease Control

Comcast Foundation

Fels Fund

James L. and John S. Knight Foundation

Memton Fund

United Way of Greater Philadelphia and Southern New Jersey

Urban Genesis, Inc.

W. K. Kellog Foundation

Wachovia Regional Foundation (formerly the First Union Foundation)